Your Pasadena Plumber
Looking for a reliable Pasadena plumber to return your home to normal? Call Heidler, Inc. at (410) 268-7191 for immediate service. Click here to view our current specials and discounts.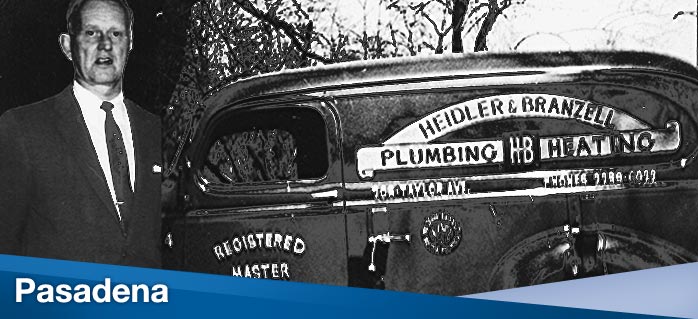 Regular plumbing maintenance can prevent common problems. However, if you haven't been scheduling routine maintenance services, don't worry. We can help you fix a range of plumbing problems, from clogged drains to faulty water heaters. Heidler, Inc. is your local Pasadena plumber focused on delivering tailored solutions to your specific needs.
Click here to read our latest customer reviews.
What are signs it's time for sewer line repair?
There are simple ways to tell if your sewer line is in trouble:
Slow draining sinks, showers, or tubs
Sewer water puddling on your lawn
Foul smells coming from your drains
Toilet has trouble flushing
Drains overflow with sewer waste
These signs indicate a leak in the sewer line; there could also be a clog from debris buildup, invasive tree roots, or corrosion. Avoid sewer backing up into your home and call your plumber at Heidler, Inc. for immediate service.
Need professional drain cleaning services?
Have you tried to clear a clog using a plunger or chemical drain cleaner? These may work in the meantime, but they are only short term solutions. To avoid recurring clogs, you need to completely remove the blockage from your pipes. This is where we come in. We have the tools to locate the blockage and flush it out using hydrojetting.
How do you know if it's time to call for professional drain cleaning? Contact us if you notice these signs:
Water backing up from the drain
Foul odors coming from the drain
Water draining slower than normal
Clog continues to recur
Is it time to replace your old water heater?
Avoid cold showers in the morning with an upgraded water heater.
What are signs you need to replace your water heater?
Age: Is your water heater more than 10 years old? Older models will need repairs more often, and replacing your entire unit will prove more effective in the long run.
Corrosion: You will also need to replace your water heater if the tank is corroded. You will be alerted to this problem by the brownish or reddish-brown water coming out of your faucet.
Damaged connections: If any of the gas connections or mechanisms become damaged, you will also have to replace the water heater.
An effective way to avoid these problems is to schedule annual maintenance. Regular water heater inspections allow you to stay ahead of potential issues and have them fixed before further problems develop.
Reviews powered by Nearby Now
---
Kris S.
Inspected Hearth & Home Technologies gas log fireplace.
Near
Champion Ct,
Pasadena
,
MD
21122
---
Kris S.
Performed gas log fireplace maintenance.
Near
Old Magothy Bridge Rd,
Pasadena
,
MD
21122
---
Kris S.
Installed ProPress ball valve and tee with boiler drain, wrapped with heat tape and insulation to repair leak in pool house.
Near
Crystal Palace Ln,
Pasadena
,
MD
21122
---
LaShawn S.
Performed gas log maintenance
Near
Rock Hill Rd,
Pasadena
,
MD
21122
---
Kris S.
Cleared sewer stoppage.
Near
Kenwood Rd,
Pasadena
,
MD
21122
---
Kris S.
Replaced single handle tub/shower faucet in basement apartment.
Near
Edwin Raynor Blvd,
Pasadena
,
MD
21122
---
Kris S.
Investigated water in backyard. Found water in backyards of 218, 220, and 222. All plumbing comes from the front. Clocked meters for 216-230,found meter at 224 spinning at approximately 2GPM. Nobody was home at 224 to alert them to this issue. There does not appear to be a plumbing issue anywhere else.
Near
Quiet Ridge Ct,
Pasadena
,
MD
21122
---
Kris S.
Furnished and installed Carrier mini-split ductless HVAC system.
Near
Whites Cove Rd,
Pasadena
,
MD
21122
---
Kris S.
Replaced garbage disposal with new InSinkErator garbage disposal.
Near
Moonfall Ct,
Pasadena
,
MD
21122
---
Kris S.
Furnished & installed Carrier heat pump mini-split system.
Near
Whites Cove Rd,
Pasadena
,
MD
21122
Find out how we can help you out of your worst plumbing problems. You can expect your Heidler technician to arrive on time and provide only high quality solutions. Call us today at (410) 268-7191.