Your Severn Plumber
Need a reliable Severn plumber? Heidler, Inc. will not let you down. You will receive prompt service and solutions that last. Call (410) 268-7191 to schedule an immediate service. Click here to view our current specials and discounts.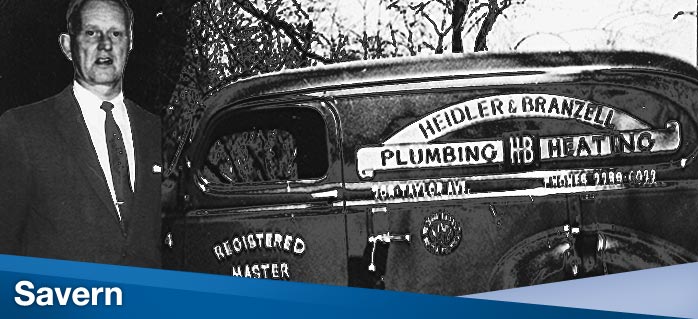 Are you stressed about your plumbing? You don't have to tackle your problem alone. Contact Heidler, Inc. for solutions you can trust. We are your local Severn plumbers dedicated to superior customer service and long term solutions.
Click here to see how we have helped your neighbors out of their plumbing problems.
What are signs you need sewer line repair?
Be on the lookout for these signs that call for immediate sewer line repair:
Foul drain smell: A damaged sewer line can lead odors through your drains.
Toilet problems: Damaged sewer lines can also make it difficult to flush your toilet. Other problems include clogging and overflowing.
Slow drains: A clog in your sewer line can affect normal drain flow, resulting in slow draining sinks, shower, and tubs. We will carry out a thorough sewer line inspection to determine the best solution and discuss your options.
When should you call for professional drain cleaning?
Can't seem to get rid of a clog in your drain? Does it keep recurring even after you have tried the plunger and various chemical solutions? Let us help by completely removing the blockage from your drains.
Below are signs it's time to call for professional drain cleaning:
Multiple clogged drains: This points to a problem in your sewer line that is affecting your bath drains.
Slow drains: Are your drains emptying slower than usual? Your pipes may have narrowed flow due to debris buildup.
Foul drain odors: Do you smell sewer odors coming from your drains? This is often a clog in your drain or sewer line.
When should you replace your water heater?
The typical lifespan of a water heater is 7-10 years. A water heater reaching this mark will need to be replaced if it is frequently exhibiting problems.
The older your water heater, the more likely leaks will form around the base of the tank. This is caused by corrosion from the minerals found in hard water.
Another sign that your water heater needs to be replaced is if you notice inconsistent heating. Let our experts solve your water heater issue so you can enjoy the hot water you need.
Reviews powered by Nearby Now
---
Kris S.
Repaired A.O. Smith power vent water heater.
Near
New Cut Rd,
Severn
,
MD
21144
---
LaShawn S.
Repaired Delta tub faucet
Near
Sage Brush Ct,
Severn
,
MD
21144
---
Kris S.
Repaired Navien tankless water heater. Performed gas log fireplace maintenance.
Near
Barnhill Cir,
Severn
,
MD
21144
---
Kris S.
Furnished and installed A.O. Smith hybrid water heater with expansion tank and condensate pump. Also installed new barometric damper on oil furnace.
Near
Lucky Rd,
Severn
,
MD
21144
---
Kris S.
Pulled and reset master bathroom toilet. Replaced master pop-up assembly on right side sink. Repaired kitchen faucet.
Near
Old Bay Ln,
Severn
,
MD
21144
---
Kris S.
Investigated leak under kitchen sink, found no leak at this time.
Near
Lucky Rd,
Severn
,
MD
21144
---
Marsha M.
Ran 3/4" black iron pipe around side of house from meter to grill location and capped.
Near
Harvey Ave,
Severn
,
MD
21144
---
Marsha M.
Performed annual Preventive Maintenance Agreement plumbing inspection.
Near
Harvey Ave,
Severn
,
MD
21144
---
Marsha M.
Removed trap on kitchen sink. Snaked out to 15 feet. Cleared at approximately 12 feet. Did not retrieve anything. Tested thoroughly.
Near
Delmont Rd,
Severn
,
MD
21144
---
Carol T.
Replaced hose bib and expansion tank
Near
Sand Rd,
Severn
,
MD
21144
If you are looking for professional plumbing solutions that ensure long term efficiency, look no further than Heidler, Inc. You can always expect flat rates and superior service. Call today at (410) 268-7191.