Your Severna Park Plumber
Looking for the top Severna Park plumbers? Look no further than Heidler, Inc. Call us today at (410) 268-7191 for immediate service. Click here to view our current specials and discounts.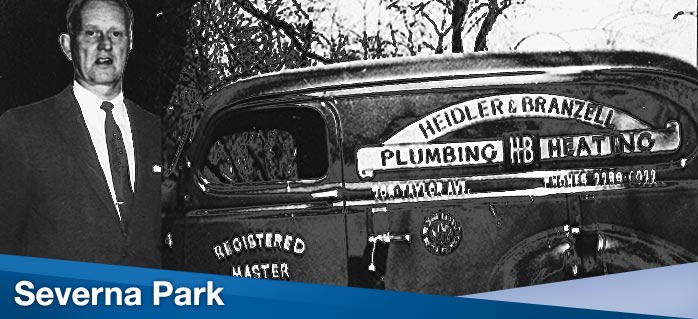 Are you tired of your drains constantly clogging? Do you need to repair your sewer line? Make sure you have a reliable Severna Park plumber in your network. Heidler, Inc. provides fast service and quality solutions.
Click here to read reviews from your neighbors and see what they are saying about their experiences with us.
What are signs you need to repair your sewer line?
Sewer lines can break without notice, and the damage can go without attention until it is too late. Below are problem signs to look out for:
If you see standing water in the area where the sewer pipe connects with the city's sewer line, there is a problem.
Mushy spots in the yard and the smell of sewage are signs that there is a broken line.
If the toilet is not filling up to its original level after flushing, there could be a blockage in the line.
Slow or blocked sink and tub drains signal a clog in the sewer pipe.
When is it time to call for professional drain cleaning?
Forget the plunger and chemical drain cleaners. Professional drain cleaning may be the best option to help your clogged drain problem. We provide sewer camera inspections and hydrojetting services to rid your drain or sewer line of the most stubborn clog.
Below are signs you need to call for professional drain cleaning:
Notice recurring clogs? Shower and sink drains are prone to clogging because of the amount of debris entering on a daily basis (hair, soap scum, food items). If the clogs keep recurring, you may not have been successful at removing the entire clog the first time.
Slow drains are another sign it may be time to call your plumber. Even if water is still flowing through, a slow drain may quickly develop into a clog. Clogs form from a buildup of grease, hair, or hard water minerals. We can help you identify and remove the problem before it presents further issues.
Multiple clogged drains in your bathroom means that your sink, toilet, and shower are all draining too slowly. This points to a clog farther in the sewer line. A clog this far down is difficult to remove on your own. Contact us for a professional solution.
A severe clog or blockage will cause sewage to back up from your drains. Contact us immediately for emergency repair.
Is it time to replace your water heater?
Don't wake up to a cold shower. Get the hot water you need with professional water heater repair and replacement. Water heaters are expected to last 7-10 years. After that, you may start to notice frequent problems. Replacing an older, faulty water heater with a more efficient one will provide greater energy savings. We will help you choose the right water heater that fits your needs and budget.
Reviews powered by Nearby Now
---
Kris S.
Dug out sump pit. Poured new concrete bottom. Repaired side. Reinstalled pump, installed new lid on pit.
Near
Heavitree Garth,
Severna Park
,
MD
21146
---
Kris S.
Inspected Rinnai tankless water heater to confirm it is operating normally at this time. Repaired Delta shower faucet to restore normal hot water operation in second floor childrens bathroom.
Near
Askewton Rd,
Severna Park
,
MD
21146
---
LaShawn S.
Replaced sump pump with Zoeller sump pump and check valve. Also replaced lid on sump pump pit.
Near
Hillcrest Ln,
Severna Park
,
MD
21146
---
LaShawn S.
Pulled w/c in 1st floor bathroom & inspected flange. Reset w/c and tested. Found no leaks. Replaced Hartell laundry pump in basement.
Near
Riverview Rd,
Severna Park
,
MD
21146
---
LaShawn S.
Performed minor rebuild of toilet in entry way powder room. Also looked at running gas line to front fireplace. Line would have to wrap house roughly 80 feet. Sold PMA renewal
Near
Ticonderoga Ave,
Severna Park
,
MD
21146
---
LaShawn S.
Augered master toilet several times to make sure toilet is not clogged. No stoppage at this time.
Near
McKinsey Park Dr,
Severna Park
,
MD
21146
---
Kris S.
Insulated flue damper, reinstalled surround and performed gas log fireplace maintenance.
Near
Marlinspike Dr,
Severna Park
,
MD
21146
---
LaShawn S.
Bonded gas system to electrical panel. Tightened kitchen faucet, replaced spout o-rings. Removed Jack and Jill shower trim and fastened faucet body. Sealed with silicone and replaced master bath toilet handle. Performed gas log maintenance
Near
Emilies Ln,
Severna Park
,
MD
21146
---
LaShawn S.
Found pump is constantly running could not remove lid. Will return 8/8/18 with 2 man crew to remove and gain access.
Near
Heavitree Garth,
Severna Park
,
MD
21146
---
LaShawn S.
Pulled and reset powder room toilet, replaced bad wax seal that was letting sulfur gas into bathroom.
Near
Mystic Woods Ln,
Severna Park
,
MD
21146
Get back to your normal routine as quickly as possible with quality plumbing solutions from Heidler, Inc. Receive upfront, flat rate-pricing and top-notch service when you call (410) 268-7191.